Are you planning for trekking in Nepal in October and searching for an information guide? In this blog, I am going to explain about October trekking in Nepal with possible trekking routes, essential gear lists, food, and accommodation guide.
Nepal, the land of thousands of mountains, numbers of lakes, high hills, and dense forest is the dream place and best destination for many trekkers of all over the world. International tourist mostly recommends Nepal to visit because it is affordable as well as the natural beauty of this place attracts them. Due to this reason, the major profession of Nepalese has become tourism. So, more resources and attention has been given to enhance tourism and different facilities have been provided for tourist and in tourism site. We never fail to satisfy our guests. Exploring in Nepal is a wonderful experience for every Trekkers/tourist.
Talking about the best season or month to visit our beautiful country, I will recommend October. In October, Nepal will have perfect weather conditions which result in a wonderful view of different beautiful places. In fact, October month is the busiest trekking season in Nepal. When you visit Nepal during October, the favorable temperature and weather will make you more energized and excited for the whole journey.  The decision of yours to have trekking in our country will worth it and you won't regret it. The unique culture, tradition, hospitality will provide you homely environment. We Nepalese treat our guests like God so, you will get the best hospitality and peaceful environment. While returning back to your country, you will take back the beautiful memories that you have collected during the trek.
Is it possible to trek in Nepal in October?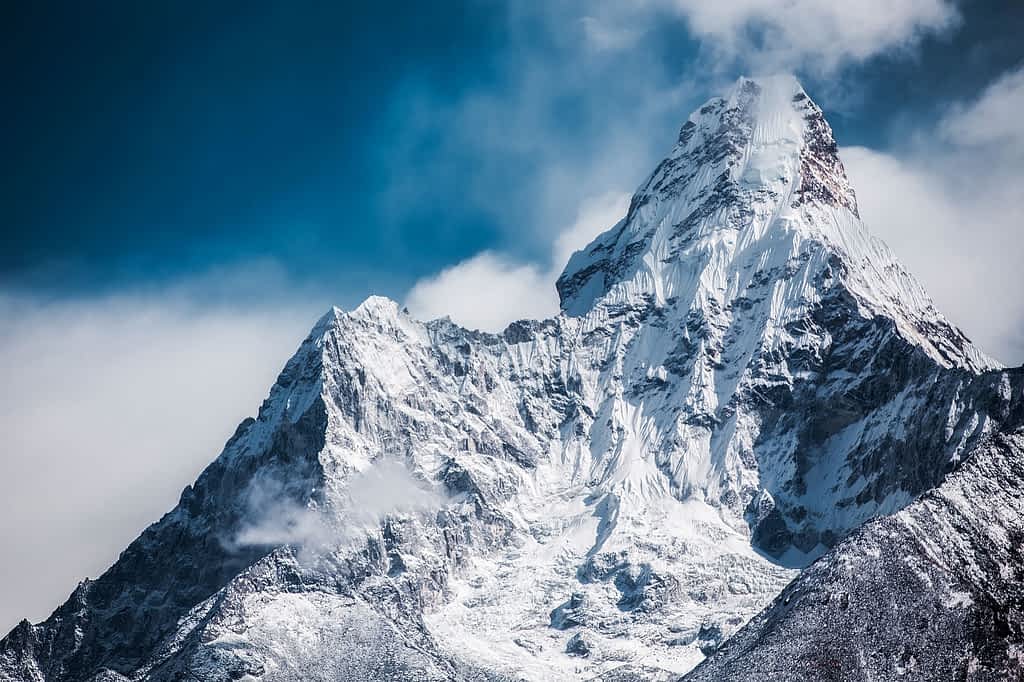 October is the most favorable season for trekking. During October, monsoon will have gone but the beauty, freshness of the green thick forest, rivers flowing through the Himalayas to terai exists longer. The sound of birds singing in the forest will provide you peace and make your mind steady. The temperature is perfectly suitable for trekking during October. Weather is also favorable which makes visibility of mountain and surrounding area very clean.
Highlights of Trekking in Nepal in October
Favorable weather and temperature
Days are sunny and nights and early morning are cold
Monsoon ends leaving behind the clear, green and fresh atmosphere
The reflection of clear blue sky and mountain range in some rivers and lakes of Nepal will take your breath away
The major festivals of Nepal, Dashain and Tihar are celebrated in October
You will get a chance to enjoy a unique festival and learn some different culture from Nepalese society
You will enjoy the delicious Nepalese food, sweets during festival and trekking
The atmosphere during the festive season is delightful
You will also get love and blessings from the people
 Where to go Trekking in Nepal in October?
Nepal is a perfect destination for trekking/hiking. There are thousands of Mountain ranges, hills, valleys for trekking, especially during October. Some of the trek routes during October in Nepal are;
1. Everest Base Camp Trek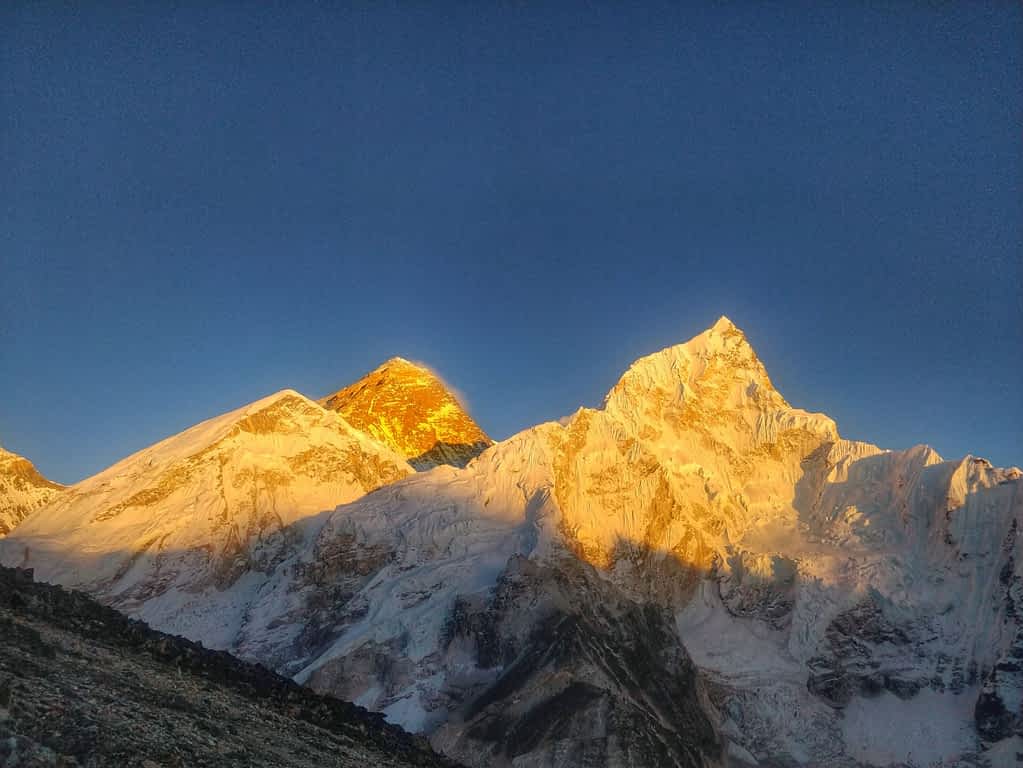 The most popular trek route in Nepal is the Everest Base Camp Trek. This trek leads you closer to the world's highest mountain, Mt. Everest. The Autumn season is the perfect time to have Everest base camp trek. Since October lies in the middle of the Autumn season, your trek on Everest Base Camp won't be affected by any unfavorable climate.
There will be a moderate temperature at day time as well as night time. Even though this season is best, you must be careful during the trek. In October, Rainfall occurs quite frequently but doesn't last long. It usually lasts for less than a couple of hours. After rainfall stops, the view of mountain, sky, river, and valley clearer and mesmerizing.
2. Annapurna Base Camp Trek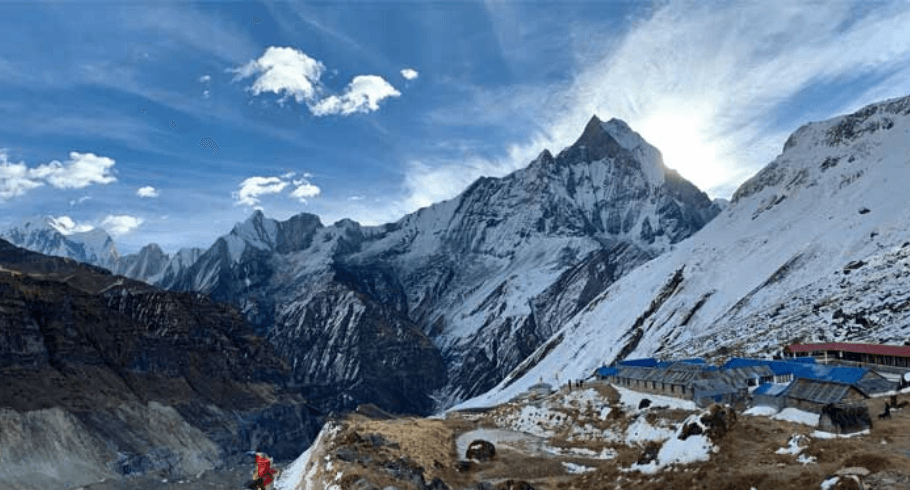 The short trek passing through a diverse landscape, village, forest towards Mt. Annapurna I, the World's 10th highest mountain is Annapurna Base Camp Trek. This is quite a popular trek from Pokhara valley. This trek is done to enjoy snowy cold weather and to view stunning Mountain Range.
As I have already mentioned that, during October sky is clear and blue, this means the weather is perfect at this time. If you get a chance to view Mt. Annapurna I during October, you won't regret having this trek. The journey of yours will be interesting, exciting, and wonderful during that season. You will also get a chance to be a part of Nepalese culture and tradition and you will enjoy celebrating our major festival Dashain and Tihar so, the decision of yours to have Annapurna Base Camp trek in Nepal in October is absolutely right.
3. Manaslu Circuit Trek
The closest trek to the capital of our country is Manaslu Circuit Trek. This is not as popular as Everest Base Camp Trek and Annapurna Base Camp Trek but it is in fact exciting and adventurous trek. October is the most favorable time to have Manaslu Circuit Trek. The weather is moderate, neither excessively hot nor excessively frosty. The view of blue clear sky and the white snowy mountain is stunning and wonderful. You won't be able to express your excitement and happiness by observing those breathtaking views.
The Mountain view is seen flawless, it is because the sky is clear and dust is not present. The rain occurs frequently which removes out pollution from there leaving behind the wonderful scenario of the peaks. You will get a chance to interact with local as well as international people during your trek because October is the busiest season for trekking so there will be numbers of more trekkers accompanying you in your journey. It will be a wonderful time for you because you can learn about different people's cultures and can get help from them anytime you needed.
4. Panchase Panorama Trek
Panchase Panorama Trek is a short and easy trek but not less than thrilling hikes. The journey to reach the final destination ends in 4days but it is exciting and wonderful to have that trek. The trek leads you to Sarankot where you will catch magnificent Panorama views of Himalayas.
October is also a favorable time to have Panchase Panorama Trek. The clear sky provides a more stunning view. The sunrise coming from Annapurna Massif looks splendid during October.
5. Annapurna Circuit Trek

The popular trek route of Nepal passing through river, valley, Rhododendron forest, etc. is Annapurna Circuit Trek. You will pass through Gurung community village, where you get a chance to involve in different activities that Gurung communities do. This will make your trek more wonderful.
About the best time to visit Annapurna Circuit, it is also October month. The moderate temperature during this month won't bother you during your trek. You will easily reach your final destination without any difficulties due to weather/ climate. Hikers will get a chance to explore the natural beauty of Annapurna mountain Range, Ghandruk valley, Dhampus valley, and their culture, tradition, and livelihood. You will also encounter unique fruits and vegetables in the way which are more delicious and healthier than western food.
6. Shivapuri Trek
Shivapuri Trek is a short trek that provides an amazing view of Langtang Himalayan, wonderful nature, eagle-eye view of Kathmandu valley, and surroundings. This is an easy trek and any level of hikers can attempt it. Considering the suitable time, October would be the best. Not hotter, nor colder is advantageous for hikers because both sunlight and cold wind won't bother them this month. Instead, this season provides a wonderful and crystal-clear view of the surroundings when you reach the top of Shivapuri hill.
7. Ghorepani Poon hill trek
Ghorepani Poon Hill trek is carried on to observe sunrise view rising from Annapurna Massif. Trekkers also hike to view beautiful Himalayan Range passing through Annapurna Sanctuary, valley, river, forest. Although your journey to poon hill is short but the amazing view and peaceful environment worth more there. It is more attractive in October where you will see the green thick forest below you and snowy mountain in front of you, from where you will observe the perfect and beautiful sunrise view. This trek is refreshing and easy. Ghorepani is another option for trekking in Nepal in October.
8. Nagarkot- Chisapani Trek
Nagarkot- Chisapani is also a short and exciting trek in Nepal. It lies around Kathmandu. This trek will provide you beautiful nature, natural environment, walk through the village, stunning Himalayan Panorama of Manaslu, Ganesh Himal, Langtang Himal, Gauri Shankar Himal, etc.
Nagarkot is the best place to view sunrise and sunset in the valley. The world's Highest Mountain, Everest is visible from Nagarkot on a clear day. This trek should be done in October to enjoy the stunning view of such wonderful places, valleys, and Himalayan.
9. Makalu Base Camp Trek
Makalu Base Camp Trek passes through Rhododendron forests, granite cliff, a waterfall which takes you to high altitude terrains, Himalayan landscape. This trek is done to view the beautiful mountain of Mt. Makalu, the 5th highest peak of the world. It is less traveled trek but you will get a wonderful experience when you will have this trek. This trek is suitable mostly during October. You will witness the beauty of these places, and the stunning view of Himalayas.
Tips for food and Accommodation in October
October is the most popular and busiest trekking month in Nepal. Best Food and Accommodation are available along the way. There are many restaurants and lodges ranging from low budget to high budget. Once you start your journey, the choices are more and it's a good idea to stock up on some canned foods for the trip. You will find food to be very inexpensive along the way and can expect to pay no more than a hundred rupees for the delicious item. The rooms are well maintained and the setting is beautiful at the lake's edge. During your trek, you will get a chance to interact with local people, will have to shelter in the teahouse where you will witness amazing hospitality, delicious food, and a wonderful companion.
What to wear in Nepal in October?
If you are planning to have a trek during October in the Himalayas, then woolen sweaters, jackets, or warm outfits are necessary. If you go to the mountain like Nagarkot, you'll need something warm dress and shawl, for the evening and early morning. In most of the Terai region trekking, you must take a light dress. You don't have to wear a warm jacket or something in terai.
In October, days are hot so when you will be trekking in days, you have to wear light dresses but the evening and early morning are cold so you should wear a warm dress to be protected from cold. If you think you will have a burden to carry heavy jackets or dresses, then you don't have to worry. A small down jacket will be appropriate to save you from the cold only during October month. You can even buy such a warm dress in very fewer amounts in restaurants or local villages. During the evening, you will also have a fire camp in all restaurants so there is no chance to feel cold staying near to fire for some time.
Tips for Trekking in Nepal in October
Trekking in a group is safer than trekking alone. While trekking, you might get ill or you might encounter difficult situations. So, in a case when you need help, your fellow trekkers or the guide will help you out. The days are warm and sunny in October. A sleeping bag with liner is a great addition while trekking.
Nepal is your oyster in October, with weather and activities at their best throughout the country. That said, you won't be alone at the hotspot. Trekkers who want solitude will need to get- off the beaten path in order to avoid crowds and full lodges on the most popular routes. You can't go wrong against your wonderful journey. Whatever you want to do, conditions are likely to be good. Beyond trekking, white water trekking and kayaking trips are an excellent activity for October, as water and air temperature are at their most comfortable condition. While trekking in the higher altitude, your body dehydrates fast. So, carry a bottle of water along with some juices while trekking, prepare yourself physically and mentally for the trek. Make sure that you carry a comfortable backpack.
Conclusion
Trekking in Nepal in October takes you to the heart of majestic Himalayas. The stunning views of landscape and glaciers are immortal during the month. You can witness two important festivals of Nepal; Dashain and Tihar. All the accommodation along with the trekking routes are open in October so, it becomes easy and comfortable for trekking in Nepal in October. But, do keep in mind that most of the popular treks are fully crowded during this period of time that is why pre-booking becomes an absolute must.
Note: You need to pre-arrange almost everything from your flight tickets to hotel rooms.