Nepal is a naturally landlocked country with stunning peaks and ever lifted green forests. Nepal has been the main destination for trekking and touring. The government of Nepal has planned to promote Visit Nepal 2020.
In addition, the Ministry of Culture along with Tourism and Civil Aviation will undertake this great touring plan Visit Nepal 2020. The government has decided to bring  2 million tourists within 2020 and this event will be the main for the country Nepal.
In order to promote this campaign the government has planned to promote 5 sectors, it includes the social life of people, heritages, nature, wildlife, culture, religion and Pilgrimage even outdoor adventure.
Visitors could experience the ancient temples even buildings and Himalayas along with religious destinations. On the other hand, the Government is willing to introduce 2 different airports in Bhairahawa also Pokhara by 2020. Many promotions have been done.
Hopefully, visitors would have a wonderful tour, even trekking agencies are planning to offer a wide range of packages for hikers. Even several educational institutes have started a  promotion in order to upgrade this event each day also to welcome guests with the best hospitality.
Overall, Nepal has been in the 5th position when it comes to visiting among the top 10 most places on the earth planet.
"NATURALLY NEPAL ONCE IS NOT ENOUGH"
Where is Nepal? 
This country lies between India and China within the South Asian continent. Mostly, Nepali people reside in the southern part of Nepal. More than 85 % of people rely on agriculture.
Why you should visit Nepal in 2020?
There are many stunning places to visit like mountains, cities, temples, ancient buildings, people, culture, religion, and trekking destinations like the Annapurna region, Lantang and Sagarmatha region. The feeling might be everlasting so once is not enough for visiting Nepal.
Visitors like to see Kathmandu valley and Bhaktapur, these cities offer very classic architecture along with art and culture. On the other hand, you could explore the amazing historical temples.
The most beautiful city Pokhara city displays many views of Mt. Annapurna ranges, Mt. Fishtail, and Mt. Dhaulagiri. Besides these, there are many places like Phewa, Begnas lakes, natural caves, holy temples, monasteries, and some beautiful sides.
Experiencing wildlife can memorable in places like Chitwan, Bardia National park and National park. Visitors could explore a wide variety of animals: one-horned rhinoceros, fox, red panda, Bengal tiger, and birds. Additionally, you can have a jungle safari which is most popular in Chitwan. And this place is full of green forests and farming land with houses.
Trekking in Nepal offers an immanence joy and hiking nearby the Everest region, Annapurna region, and Langtang could be a praiseworthy experience. When it comes to the religious experience, there are many temples and monasteries in Kathmandu city, Bhaktapur and Lalitpur.
What to experience in Nepal Visit 2020?
More than 20 %  of the park has protection since Nepal has pristine beauty of Nature, Himalayas Ranges, and multiple cultures and endless traditions. Nepal has many things that you can experience. What to experience in visit 2020?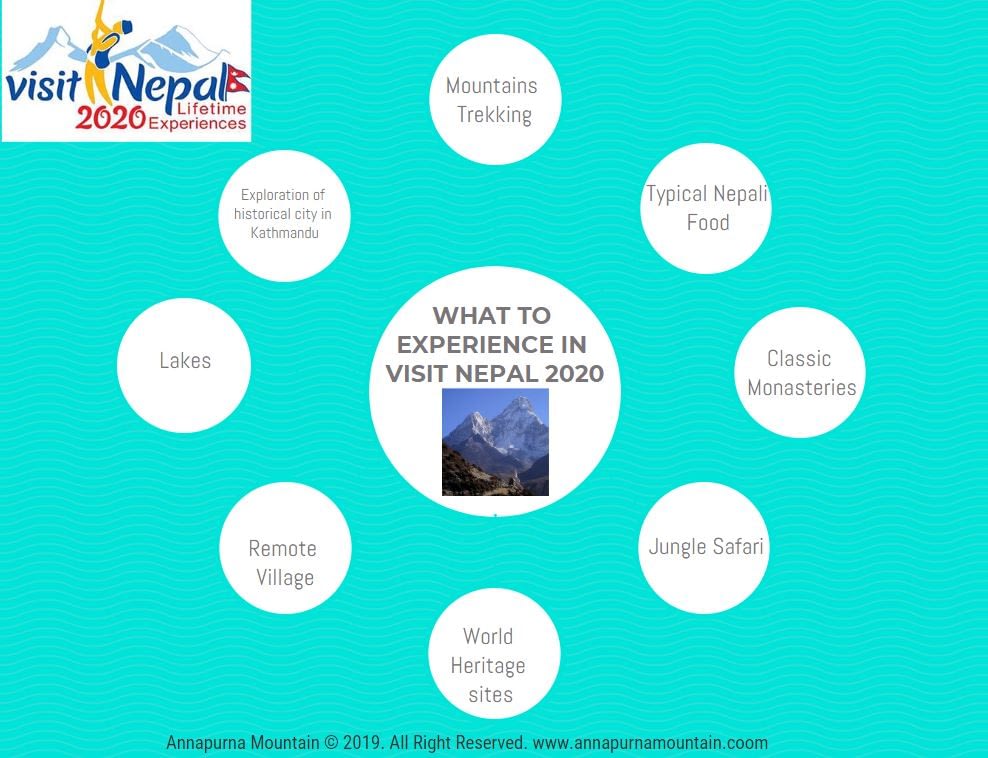 Trekking in the highest peak and Mountains Views
You could get a huge chance of hiking from 3000-5000 meters from the sea level.  There are so many peaks to visit like Mount Everest region trekking, Annapurna, Dolpo,  Makalu, Dhaulagiri, Kanchenjunga, and Lantang Region.
Nepal is the country of mountains with evergreen forests. Mostly, you could explore a lot of mountains with beautiful shining peaks. Additionally, hiking could be yet another place for the mountain regions of Nepal and Feeling could be memorable. Mountains Trekkings is the lifelong experience that you can have in 2020 Visit Nepal.
Exploration of the historical city with Temples and Monasteries
Kathmandu city is a very ancient city with modern construction. This city does have many holy temples and monasteries with beautiful designs. Many people reside in this place, moreover, there are some places to explore like Lalitpur and Bhaktapur.
There are many Buddhists monasteries with classic art and designs. In addition,  you could feel peace and calm when reaching monasteries. Visiting such things will be very beneficial for spiritual growth.
Kathmandu city has a lot of temples like Pasupathi, Patan Krishna Mandir, Taleju more and even monasteries. Most Hindu devotees go into temples for worshiping the almighty God even for prayer. Mostly,  Buddhists go to the monasteries for adoring and praising. A historical city, temple, and monasteries are other features of Visit Nepal 2020.
Typical Nepali Food
There are many food centers, cafes, and hotels where you could enjoy having food with Nepali food. You could taste many food times in Nepal such as Nepali food, Thakali Food, and Newari.
Jungle Safari
Even Jungle Safari is very popular for animal lovers as you could see many types of animals. This happens only in  Chitwan National park of Nepal.  But, the fun could be outstanding. There are Elephants, Rhino, deer and a wide variety of birds just inside this park.
Adventurous Activities
Rafting, Bunjee Jumping, Paragliding are the most popular activities that you can experience in Visit Nepal 2020. Some of the popular activities are as follows:
Rafting is one of the popular things to do in Nepal, there are many natural rivers where you could do rafting. The feeling could be very praiseworthy. Doing with friends could be very fun-loving.
Bungee Jumping is yet another adventure to carry out for eminence pleasure this hails in Pokhara city and Bhote Koshi in Nepal.  Many visitors who do this for the wonderful memory. Fearful yet adventurous, once may not be enough.
Paragliding in Pokhara will thrill you with scenic views of Pokhara valley in front of the Annapurna Ranges. Visitors could enjoy doing this gliding to experience bird feeling, You might feel like a bird flying in the sky.  This happens from the top of the mountains and while flying you could see the mountains and cities. Flyers could view the lakes even the city of Pokhara city while Pokhara city.
Zip flyer is available in Pokhara city,  it begins to form the top of the mountains to the pain level while getting down you feel happy and fearful.  You could view the river and mountains.
Altra Flight is another activity that you can find in Nepal. This service in  Pokhara city, mainly visitors takes an ultra flight in order to see the city, fishtail, Annapurna views and mountains. The feeling could be everlasting and beautiful.
2020 Helicopter Touring Package for Nepal Visitors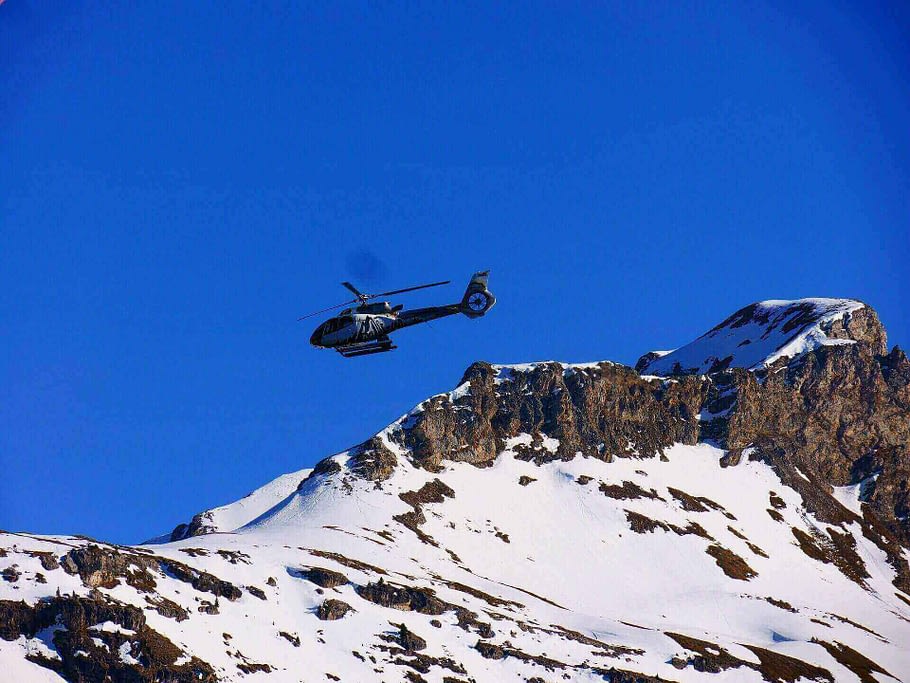 We do have a service of  Helicopter tour packages.  It is very relevant for the visitors who very short for seeing the beautiful peaks and ever shining mountains. So visitors could hire a  Helicopter either from Kathmandu or Pokhara city. More 5 people could take a flight to Tilicho lake, Muktinath and  Everest region. While flying, you could view a wide range of peaks even lifted mountains. In visit Nepal 2020, a helicopter tour can be the best experience for you.
The benefit of taking a helicopter, visitors can save their time and explore the places in a matter of time. So far  Helicopter is being very useful for many visitors in Nepal. We serve every mountain region helicopter cost at a reasonable price. For more detail, you can message us via the inquiry form.
Everest Helicopter Tour
Many visitors who have a short time they prefer moving to the Everest region by hiring a helicopter. More than  5 people can fly at the timing visiting this region.  There are two options whether to fly from Kathmandu city or Pokhara city. It is good for senior citizens.
Tilicho Lake Helicopter Tour
Tilicho lake tour is also very popular on the helicopter for short-time visitors.  Reaching on this lake offers an exciting pleasure and full fun since this lake is on the lap of the mountains and it is a beautiful lake with the blueness. Even you could view the  Tilocho peaks just beside this peak.
Hiking to this destination offers ever praising landscapes and climate. So, it is worthy to visit this lake once in life in order to know the real value of touring in Nepal. This lake is Nepal within the Manang district.
Getting to this holy on a Helicopter tour could be yet another memorable touring in Nepal. This place is relevant for the  Spiritual seekers. Many devotees come to this temple in order to worship God so that their sins will pass way. This place displays amazing landscapes.  You could take a bath in 180 stone taps to be pure again.  Even this place is worth visiting for Buddhists.
If you have a short time for visiting this place,  then Helicopter touring could be very best for you. While reaching this place, perhaps your feeling could be very different than expected.
Worthy Trek destination for Nepal Visitors for 2020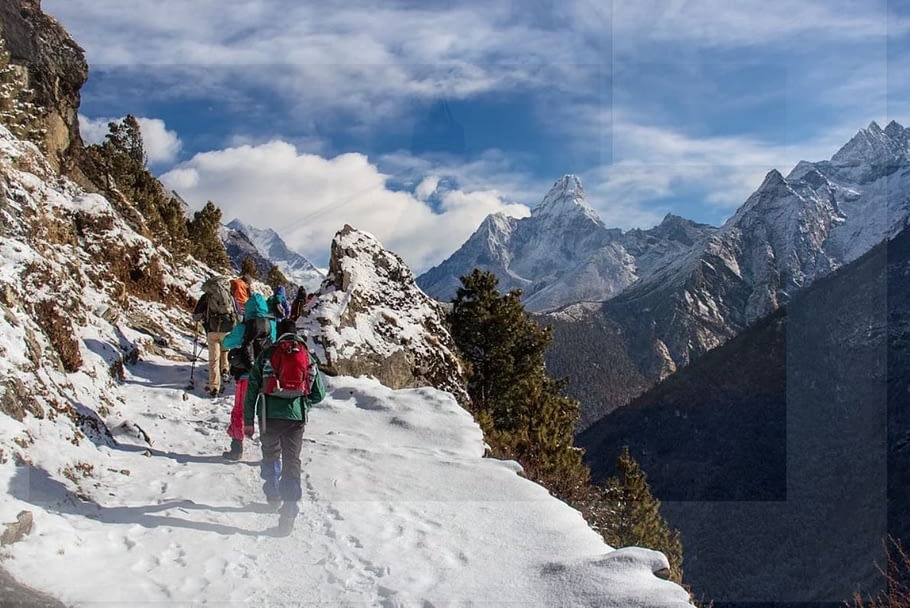 When it comes to natural adventure, probably Nepal could be the best center in order to explore peaks, mountains, and river flows. Even to hike near to the world's highest mountain ranges. Mountains trekking is another reason for Visit Nepal in 2020. Here are some popular worthy trekking destinations of Nepal. Everest Base Camp, Annapurna Base Camp, Tilicho Lake, Poon Hill are the popular trekking that you can do in Visit Nepal 2020.
Everest Base Camp Trekking
Many hikers expect to trek in the Everest region since it is the highest peak in the world therefore, this would be your dream to make it happen with natural joy.
Annapurna Base Camp and Circuit trek
Even this region is very famous for trekking, it is easy and short than other long trek destinations in Nepal.  While hiking in this region, you will see the beautiful Annapurna Rages like Annapurna I, II, III, IV, V, Fishtail, and Mt. Dhaulagiri. Similarly, most trekkers love to have an Annapurna Circuit trek, it is all about rounding the Annapurna mountains areas. The feeling could be exciting since all hikers view the amazing peaks and ever-loving mountains.
Ghorepani Poonhill  and Khopra Danda Trek
This destination is very popular for viewing the sunrise and sunset beside it is a very short trek destination.  All hikers could experience the views of mount Annapurna, Dhaulagiri, Fishtail, and ever shining Annapurna peaks or ranges. Khopra Trek route is a new one, it is a short trek moreover it offers you an immense pleasure of views of mountains. The trek route crosses the route of Ghorepani Poonhill. Hikers could make a plan to visit in 2020.
Manaslu Circuit Trek
It is the most interesting trekking route and it does not take long to reach this place. The height of the Manaslu is 8163 m. Trek to Manaslu displays, the rivers of Soti Khola, Machha Khola, Jagat, Deng, Namrung, Samdo, Samagaun, Bhimtang, Dharapani, Dharmashala, Bhimtang, Dharanpani and finally reach to  Manaslu.  
Tilicho lake Trek  
It is the most wonderful trek spot where many trekkers come to this place in order to view the highest lake which is on the lap of Himalayas. Going to this place will certainly offer you the best local and typical experience of peaks and stunning landscapes. Lake of this color is so charming and very terrific and this lake dwells at 4919-meter from the sea level.  On the way, you would come across the woodlands, rocky trails even amazing mountains.
Langtang Valley with Gosaikunda Trek
Yet another trekking spot in  Langtang region, hikers could explore the high alpine, yak pastures, panoramic views and incredible views of Lang-tang peaks. Hikers will have to cross Tibet somewhere from Kyanjin Ri. The elevation of Gosikunda is 4,380 m from the sea level, many trekkers move to this place for holy experience and it is a very sacred destination for Buddhist and Hindu.
Upper Mustang Trek and Jeep Tour
Upper Mustang trek offers you yet another experience of beautiful landscapes with ancient caves and classic monasteries. Beyond all views, all visitors could explore the Tibetan lifestyle, yak caravans, eroded canyons, and arid valleys. Additionally, you could view Nilgiri, Annapurna and Dhaulagiri ranges.
Upper Mustang Jeep tour is for visitors who do not have enough time to explore. Magical Mustang is in Lo Mangthang and this place is very famous for caves, monasteries, hidden treasures, and mysterious places. The landscapes are another spot for viewing.
Nar Phu Valley Trek
It lies in the north of Manang and offers you views of Annapurna massif. All hikers could explore the ancient villages with old monasteries with Mani walls, it reflects back medieval time of Tibetan lifestyle.
Muktinath Trek
It is in the heart of Muktinath, where you could explore the mysterious temple. Most trekkers come to this place in order to receive salvation of sin once people pray they would be pure again.  There is a 108 stone tap where many devotees take a bath for washing their sins.
Muktinath trek offers you the deepest gorge, ( Kaligandai River) and views of  Annapurna Rages I even Dhaulagiri. Apart from these, you could visit ancient monastery and caves and amazing landscapes.
Beyond all,  you could explore ever burning a natural light just inside the monastery. This place is famous both for Hindu and Buddhist. When it comes to farming,  apple production is very praise-worthy.
Tiji Festival Trek 2020
This holy, victorious festival which takes place in Lo-Manthang (Upper Mustang), closer to Jomsom. If you're planning a 2020 Tiji Festival Trek, then this would be a glorious opportunity to move into this mysterious place.
Popular Visit Nepal 2020 Touring Packages

Kathmandu, Bhaktapur and Patan Durbar Squares
This reflects the historical and ancient palaces of Kathmandu city with amazing crafted arts. This durbar has been an attraction for many international tourists. There are some classic temples around this Kathmandu Durbar Square. Similarly, Bhaktapur Durbar square is popular for touring. In Bhaktapur city, there are many temples nearby this Durbar Square. It reminds us back to the ancient buildings and arts with classic displays. These durbars can be your touring destination for visit Nepal 2020.
Patan Durbar  Square is one of the classic arts which reveal the historical art and designs.  It is in  Lalitpur city, this Durbar has a lot of beautiful layout with attractive looks and somehow it looks like a Pagoda shape. It takes nearly 15-20 minutes by bus just to reach this place from Kathmandu.
Changunarayan
This temple is in Bhaktapur city which does have many temples to see,  most of these temples have very amazing art and displays of ancient days. Many religious devotees who go into this place for worshiping to God and to receive a blessing. It takes nearly 20-30 minutes by bus from Kathmandu city.
Chitwan  and Sagarmatha National Park
Chitwan National park is beautiful naturally, where you could explore many botanical trees and a wide variety of birds inducing wildlife. Many tourists who could have a jungle safari in Chitwan and feeling might be everlasting. All the visitors could enjoy seeing, Elephants, Rhino, Birds, Deer, and parks.
Many trekkers would love to go to this zone to explore the real beauty of Mt. Everest which is in Sagarmatha National park. Even hikers pass the most beautiful Namche Bazaar, which is the main way to Everest base camp. Visitors can see the stunning views of mountains and ever-shinning peaks. Chitwan and Sagarmatha can be your touring and trekking destinations for Visit Nepal 2020.
Pashupatinath
This is the most temple of Lord Shiva, where many devotees of Hindu come to this temple just to adore the lord Shiva with a grateful heart for peak and blessing. Usually, this place becomes very crowded for prayer and adoration. This is Kathmandu city near the airport.
Swayambhunath and Boudhanath
It is one more destination for spiritual awaking for Buddha lovers and on the other people know as  Monkey temples because there is much monkey that lives in this area. Visitors have to climb many stone steps very steeply just to visit a beautiful stupa, you could view some mountains and Kathmandu city. Similarly, Many western visitors love to visit Boudhanath where you feel yourself clam and peace, you explore Mani walls around the big stupa. Even many locals visit this place in order to experience clamminess and grace. Many Buddhists who come to be thankful by just rounding this stupa. These spiritual places can be your touring destination for Visit Nepal 2020.
Kathmandu Nagarkot touring
Kathmandu city is very famous for temples and holy monasteries, Nagarkot village is nearly 25 miles away and lies the north of this city, It is a scenic spot for viewing the sunrise, the Himalayas even visitors could see the snow-capped peaks.
Pokhara  and Chitwan Tour
While in Pokhara you could view Annapurna ranges and take a ride on the Phewa Lake with an exploration of Pokhara city. Where in Chitwan you could enjoy with Wild animals, nature, jungle safari, birds, canoeing with Tharu Villages.
Lumbini Tour / Buddhist Monasteries Tour
This is the most popular destination for  Buddhist devotees and thousand visitors who come to Lumbini just for meditation and to understand the meaning of life since there are many monasteries which signify the value of human being. While reaching this place, you might feel very excited and clam. It is one more destination,  for Buddhist teaching practitioners since it offers you a wide range of classic monasteries with beautiful cities and villages. People from across the globe come to this place for prayer and adoration.
Popular Place in Lumbini – Mayadevi Temple, Puskar Pond, and Lumbini Garden
Maydevi was the mother of Buddha whose statue is very close to the Ashoka pillar.  The stone could be 2000 years old and many worship her as Rpadeve. Puskar Pond lies in the south of Mayadevi Temple, there is a belief that Mayadevi took a bath before giving birth to Buddha. This pond revels purity. Lumbini Garden is the most beautiful garden. This garden was on behalf of Thailand, Japan, and Srilanka.
Why Choose Us for Visit Nepal 2020
We have been severing since 10 years in the trek and tour operations. So, we understand the need of our clients. Our ultimate goal is to serve our guests just as God with faith and understating. For Nepal visit 2020, we Annapurna Mountain Trek has managed various special offers and discounts. Check our deals and discounts for more detail.
we offer all trekking and touring services. There are very genuine reasons to visit or explore Nepal very well. Firstly, Nepal is the country of many snow-capped peaks, mountains along with the world's top( highest )  Mt. Everest and Annapurna ranges.  In addition, Nepal includes a lot of destinations for worthy trekking places.
Besides trekking, you could get a wonderful chance to visit the spiritual temples and monasteries.  Exploring the multiple cultures could yet another pleasure for your journey.
Most people are very hospitable, so your visit will be joyful and memorable. National parks are the next step to visit in Nepal. For more activities and package visit our joint company "G.K. Majestic Trek."
To book any kind of trekking and tours through contact us page or Direct Call +9779845580816 (WhatsApp, Viber, Wechat).